We at Third Place Technologies are excited to partner with Tam Nguyen and the Tamarind Tree Family, the new owners of the "Teal Building" on 619 E Pine St, to help activate the space with arts programming through the summer of 2023 to benefit the local arts and LGBTQ+ communities in Capitol Hill, Seattle. We are kicking off this effort with a fundraising NYE party, The Bling Ball.
[PLEASE SEE SEATTLE: CITY OF THE FUTURE FOR WHAT WE ARE DOING IN JUNE]
Background
R Place was a long-running Capitol Hill LGBTQ+ bar in an iconic teal building at 619 E Pine St., with several floors providing a venue for dance and theatrical performance. As a hotspot of Capitol Hill nightlife and a staple of the gay community for 35 years, loyal fans were very sad to see it shut down during the pandemic in 2021 – and then close permanently upon the death of the building's owner [1].

The iconically teal building was originally built in 1917 for Great Western Motors. Victor W. Voorhees was the architect. [2]
In 2022, the building was purchased by local business owner Tam Nguyen, who is exploring opening a Vietnamese restaurant and lounge, similar to his first restaurant, the Tamarind Tree located a mile south in Little Saigon, Seattle. Finalizing plans to transform a building – from initial architectural drawings to securing final permits – can take up to a year in Seattle, so Tam Nguyen is working with local artist groups and non-profit organizations to temporarily activate the space. Like many neighborhoods, Capitol Hill has experienced a recent loss in the vitality of its local arts community – including its strong LGBTQ+ presence – due to the covid pandemic and sky-rocketing housing prices. To help mitigate this trend, we plan to leverage the building to support local arts and LGBTQ+ groups for approximately ten months, from the fall of 2022 through summer of 2023.

Main Floor: Bar, Greeting Area, and Stair to Mezzanine


Mezzanine: Northeast Space, South Space, and View from Mezzanine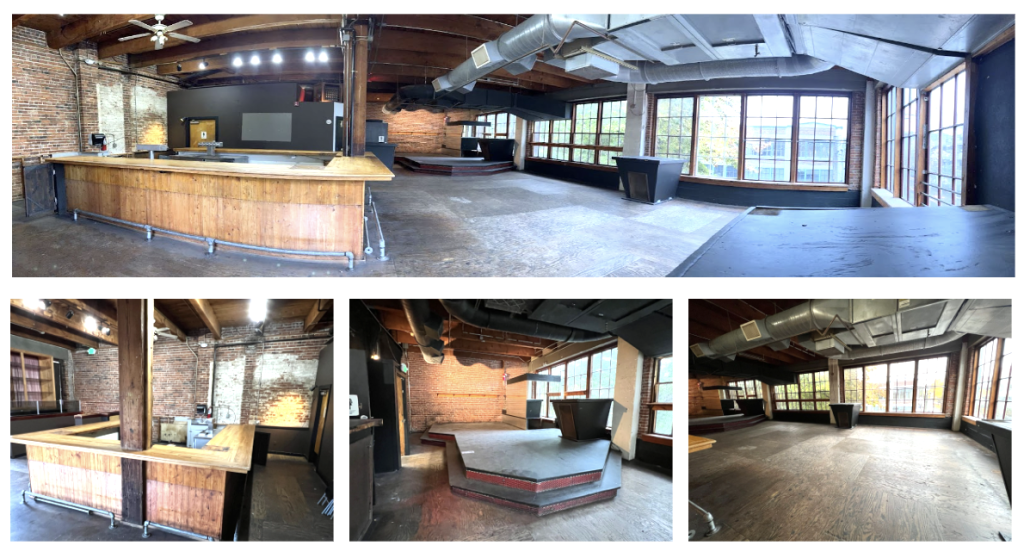 Second Floor: Bar, Stage with DJ Booth, and Open Floor for Dance or Stage Seating
The Teal Building – An Art Place
Our plan is to activate the space in two phases: the first phase focuses on leveraging the building as is, and the second on transforming the building into a larger scale arts experience. Through both phases Tam Nguyen is donating the use of the building rent free, requiring partnering organizations to cover only operating costs, including insurance and utilities.
Phase I: November, 2022 – January 2023
Local art and community groups will be invited to consider the use of the Teal Building for events, leveraging the dance floor, theater, and bar areas for arts fundraisers, theatrical performances, and other social gatherings. Local, Capitol Hill arts and LGBTQ+ groups will be prioritized. We are kicking off this phase with an arts fundraiser called The Bling Ball. Money raised will go to subsequent programming in the space, with a percent going to local non profit groups (such as The Lambert House and GayCity) to support youth arts programming.
Phase II: February, 2023 – June, 2023 (PROPOSAL)
City of the Future — A Larger Scale Arts Experience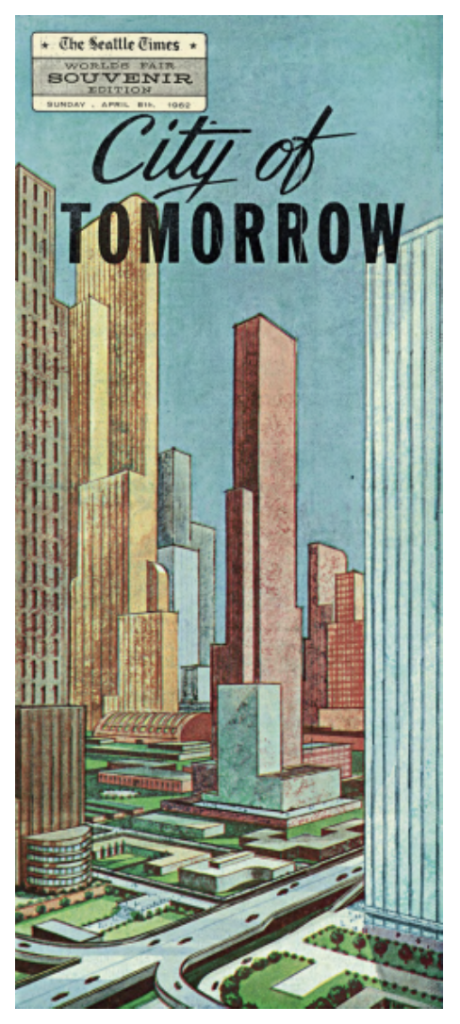 During the world's fair in 1962 Seattle was celebrated as the City of Tomorrow [3], a forward-thinking town with cutting edge innovation and technology. 60 years laters, we will invite local artists and art groups to help us transform the space into a maze of immersive, experiential installations exploring the question – what does an innovative Seattle look like now, and what should a city of the future look like. For this proposed art show, works will be selected to participate based not only on creative or technological innovations, but also social innovation – how do we achieve our aspiration that we live in an inclusive, creative community, with dignity and opportunities to thrive for all our citizen members.
The scale and extent of the show will depend on our fundraising efforts (donate via The Bling Ball!). However, we hope to have drinks and food will be served on the ground floor, with a maze of art installations winding through the ground floor, the mezzanine and the second floor, ending on the dance and theatrical spaces on the second floor. Audiences will pay a ticket to participate in the experience. To support our participating art groups, they will receive a stipend to cover installation costs and a share of the door.
Prints from Worlds Fair [3, 4]
References