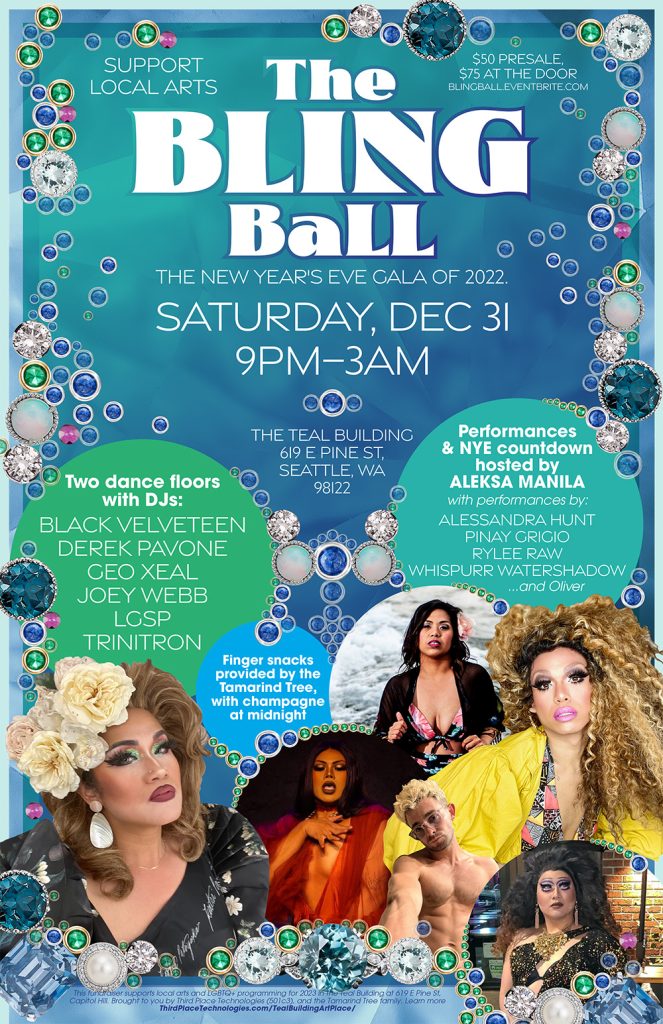 Pleas join us at The Bling Ball
The New Years Eve gala of 2022! Come dressed as your best bling self, and dance the night away at a benefit to support the local arts and LGBTQ+ communities in Capitol Hill, Seattle.
The Teal Building, 619 E Pine St, Seattle WA 98122
Sat, Dec 31, 2022, 9pm – 2am, $50 general admission presale, $75 at the door
Purchase tickets at: https://BlingBall.eventbrite.com
Two dance floors with DJs:
Black Velveteen, Derek Pavone, Geo Xeal, Joey Webb, LGSP, Trinitron
Performances & NYE countdown hosted by ALEKSA MANILA with performances by:
ALESSANDRA HUNT, ATASHA MANILA, PINAY GRIGIO, WHISPURR WATERSHADOW
Finger snacks provided by the Tamarind Tree, with champagne at midnight.
This fundraiser supports local arts and LGBTQ+ programming for 2023 in the Teal Building at 619 E Pine St, the old R Place in Capitol Hill. Brought to you by Third Place Technologies (501c3) & the Tamarind Tree family. Learn more about this project at: Teal Building Art Place.